Your account security is most important to us, and verifying your account is a very simple process using Online Verification Tool!
Bally Bet uses a verification agency to confirm your name, date of birth, and address. Most of the time available records can verify your information and your account can be verified automatically.
In certain circumstances, we might not be able to verify your identity and ask you ID documentation to verify your identity. Not to worry! If that's the case, you will be redirected to our online safe and secure document verification page for verification.
Verify Your Identity by Uploading Your Document
Verifying your account is a very simple process when you use Online Document Verification! You can use an image of a government issued ID card like a driver's license, Passport or ID card which can be used to verify identity.

How does it work?
It's quite simple! If we are unable to verify your identity automatically, then you will be redirected to a Verify Your Identity page. To submit your documents, please click on "UPLOAD YOUR DOCUMENTS". Please note, if you are not logged into your account, your will be prompted to do so.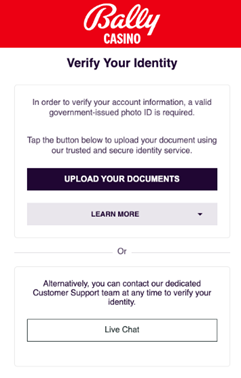 What documents will I need to send in?
You will need to provide either your driver's license, passport, or a government issued ID card.
*Note: The information on your document will need to match the details used to create your account.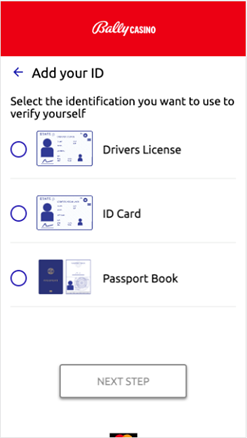 How do I upload documents?
We've streamlined this process for you!
On desktop: To upload documents, first upload the document images to your computer, ensuring that the images are clear and legible.
* Maximum accepted file size: 5Mb
On Mobile / App: To upload documents, you will need to use your phones camera to take a photo and follow the screen instructions.
Here are some helpful tips on taking a photo of your identification:
• We recommend using Bally Bet App or Mobile website for a better ID verification experience.
• Place document on a dark, flat surface in a well-lit room.
• Position camera directly over document (not angled), avoid glare.
• Fill screen, but the let background surface border all corners of the document.

What happens next?
If your document matches the information you have used to create your account, you will be automatically verified, cleared to deposit, and begin enjoying our site!
Note: Most verifications complete instantly!
If the details on your document does not match your registered details, or another issue arises with the uploaded document, you will need to re-upload new identification.
Other methods to verify identity:
Live Chat
Alternatively, you can contact our dedicated Customer Support team at any time to submit your documents for verification.
Send us an Email message
Alternatively, if you prefer you can also submit your identification for manual verification. For full details on how to use this method, please click here.

Please note verification can take up to 48 hours.